Know where your greatest opportunities are. And exactly how to seize them.
We deliver the target accounts, projects and initiatives, decision-makers, buyer info, and contextual insights right to you.
Let's talk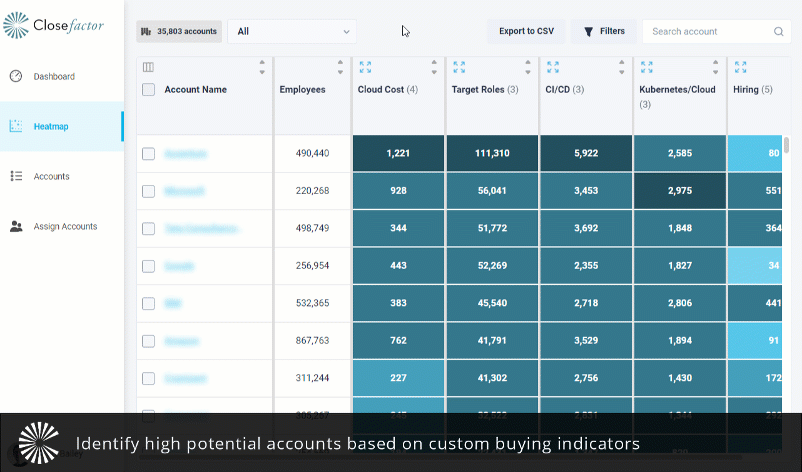 CloseFactor's automated machine intelligence filters out noise, fills in context and empowers your sales reps to chase the right opportunities.
---
Pre-researched accounts for instant wins
The art of sales is about finding people ready to buy. CloseFactor shows you where the people are with the pain points that your product solves, so you can target the right companies with the right message.
---
Designed for deeper connections
CloseFactor serves up the business priorities and projects inside your target accounts, empowering you to sell like you work there. Our insight makes it easy to talk to prospects in the context of their goals and problems and create customer relationships that last.
---
We don't just give you signals or alerts. We also equip you with the exact target personas that you can take action with, right away. So you can win more business in less time.
---
Our machine intelligence is tuned to the nuances of your customer personas and buying indicators, so your reps don't have to learn complex searches, Boolean indicators or parent-subsidiary relationships. It's all automated and assembled for you.
---
Streamlines your workflow
Now you can quickly find the exact people matched to your buying triggers, across hundreds of accounts and send hyper personalized messages at scale. The hours devoted to sourcing, searching, filtering, and honing in are reduced to seconds, so reps can do what they were born to do - engage and close.
---
"CloseFactor generated Potential Opportunities are like magic for creating targeted outreach to my account base, including from the C-suite to VPs and Directors. CloseFactor puts pre-researched accounts and opportunities right at our finger tips and empowers our sales team to sell more efficiently."
Chris (CAZ) Zawoyski
,
Regional Sales Director - North Central US | LaunchDarkly